NFC vs RFID, which is the best? What is the difference between NFC and RFID? These questions always confuse us. NFC technology originated from RFID technology. But there are some differences between them. Now, Asiarfid will take you to figure out through three questions: What is NFC technology? What is RFID technology? And how they differ?
Well, this article highlights all the details about the two technologies. We also recommend the ideal technology for use in different situations.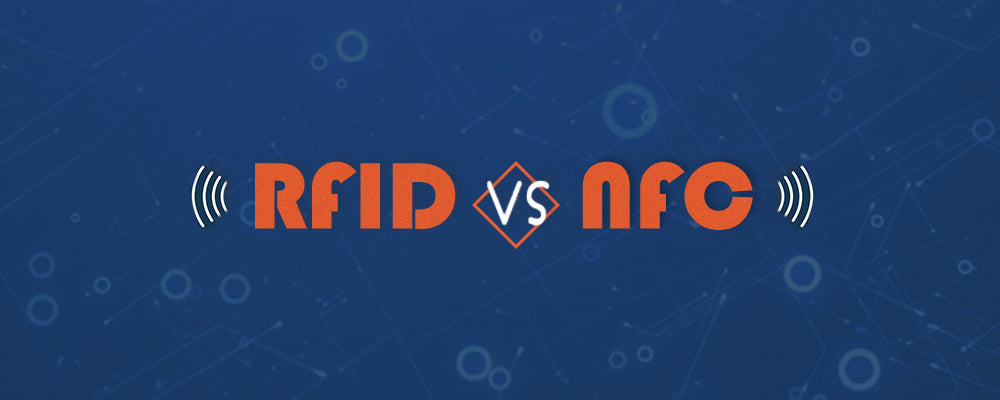 RFID vs. NFC: Definitions 
RFID and NFC technologies have a more or less similar working rationale. But, a few differences between them exist. Here is what each of the terminologies means:
RFID stands for Radio-Frequency Identification.

 

It uses electromagnetic waves to capture and interpret data. For the technology to work, you must have an RFID tag and an RFID reader.
NFC is an acronym for Near Field Communication.

 

The short-range high-frequency technology enables devices/smartphones in proximity to establish communication.
Both NFC and RFID allow the exchange of data between devices. Their slight differences lie in the infrastructure and the communication ranges.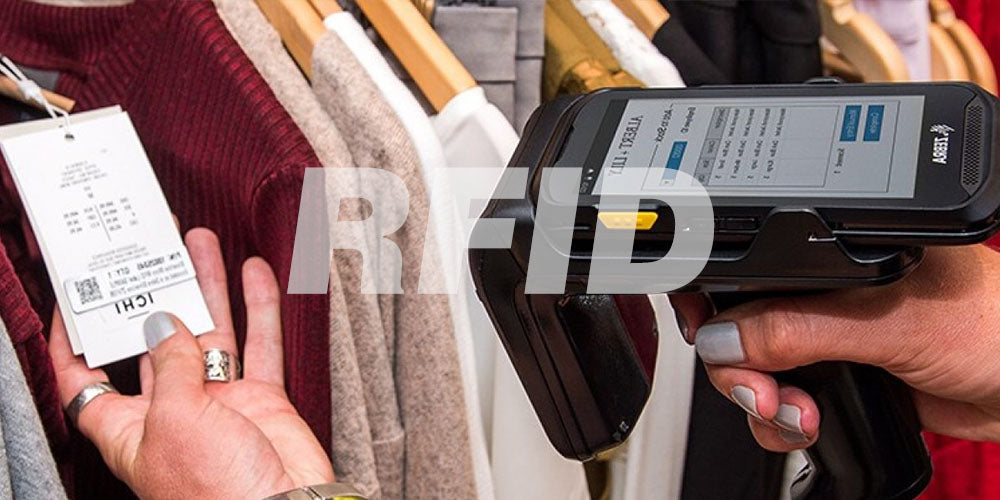 Radio Frequency Identification – An In-Depth Analysis
RFID is an identification technique used in various industries, including pharmaceuticals, farming, automobiles, and agriculture. 
How RFID Technology Works 
The technology enables users to track their physical assets and manage their inventories. It uses radio waves to identify your assets remotely.
For an RFID system to track your assets successfully, it must have the following elements:
A Reader 
An Antenna 
A tag
Each tag contains all the necessary data about that specific asset. The reader will send signals through the antennae.  Upon capturing the signals, the tag will respond by providing all the information you need about your asset. 
You can also integrate software that enables you to access the assets' data through your mobile phones. This way, you will be able to monitor the state of all your assets within minutes. 
Understanding the types of RFID tags in the market will help you to make an informed buying decision. When you step out to buy one for your business, you will encounter the following main types:
Active RFID Tags
Passive RFID Tags 
Active tags come with a battery that gives it the power to broadcast signal with a read range of up to 100 meters. Their wide range signals make them the best tracking tools for industries with scattered assets. 
On the other hand, passive tags lack a battery. They rely on the electromagnetic waves transmitted by the RFID reader. Due to this limitation, passive RFID tags are only useful for close contact (up to 25 meters) tracking. There are three main types of passive tags, including:
Ultra-High Frequency (300 MHz to 3 GHz).

 

These tags have a read range of up to 12 meters and boast of quick data transfer. However, their functionality is affected adversely by liquids &metals materials as well as other electromagnetic signals.
High Frequency (3 to 30 MHz).

 

These passive tags have a read range of 30 cm to 1 meter. They are used in electronic ticketing and other card payment platforms.
Low-Frequency (30 to 300 kHz).

 

These tags have a read range of approximately 10 cm and a relatively slower data rate. However, they are the best tags to use with metallic and aqueous surfaces.
Before you get your ideal RFID tag, ensure that you define your needs. Only purchase one with an adequate read range to help you achieve your objectives. 
Additionally, it would be best to test the suitability of the tag for use under unfavorable environmental conditions. For example, an Ultra High-Frequency tag would not be ideal for use with a metallic surface.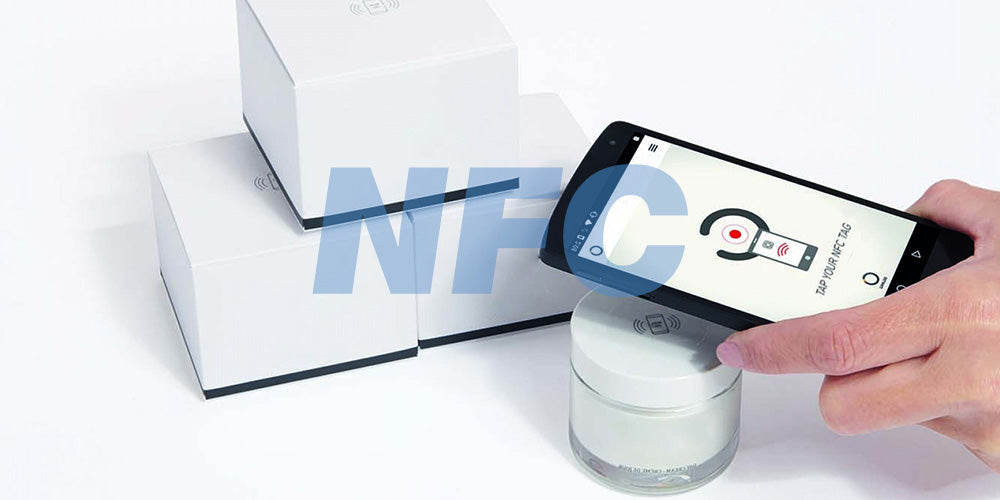 Near Field Communication – An In-Depth Analysis 
Have you ever used tap-and-go-services and wondered how exactly they work? Well, Amiibo, Apple Pay, and Android Pay do not use magic! 
Instead, the service providers utilize the wireless data transfer technology known as Near Field Communication (NFC).
So, what is the working rationale for NFC?  Below is a comprehensive guide:
What is NFC?
NFC is a short-range wireless communication technology that uses magnetic field induction. 
Unlike RFID, NFC only uses short-range waves. As such, two devices must be a few centimeters (3-5) apart for data transfer to occur.
You can also share data between an NFC tag and a powered device. The tags vary in complexity ranging from simple read-only cards to complicated cryptographic hardware. 
The information stored in the NFC tag can be written in different formats. However, most of the tags use an Android Framework API centered on the NFC Data Exchange Format. 
The NFC tag supports the following modes of data transfer:
NFC Card Emulation.

 

This mode enables an NFC device, such as smartphones, to act as smart cards. The emulated card can be read by an NFC reader, thus allowing the users to make payments.
Reader/Write Mode.

 

This mode allows an NFC-powered device to read and write tags on smart stickers and labels.
P2P Mode.

 

This operation mode enables an NFC device to communicate/exchange data with another NFC peer.
How Does NFC Work?
If you have a modern smartphone, it possibly integrates the NFC technology. The innovation allows you to make contactless payments without a hassle.
If you're wondering how it works, then read on for comprehensive answers!
For NFC technology to work, both devices must be equipped with an NFC chip. The reader will detect the electromagnetic induction from this chip. It will then read and process the information.
Here are the two main working rationales of NFC:
Two-Way Communication.

 

In this approach, the two devices must be able to read and write to each other. As such, these devices can transfer data from one chip to the other. The ease of transfer allows users to share documents, contacts, links, and other files. 
One-Way Communication.

 

In this working rationale, your NFC-powered reads/write to an NFC chip. For example, when you use your NFC-powered commuter card, the chip will get money from the card's balance.
Unlike other file transfer options, such as Bluetooth, NFC uses less power. Its power-saving ability ensures that you enjoy a prolonged battery life of your devices. 
Other Unique Applications of NFC
Besides sharing files and making payments, you can use your NFC technology to achieve the following objectives:
Enables You to Make Quick Orders.

 

NFC tags used on Windows and Android phones have improved the way of making changes in your office. For example, you can tap a strategically positioned NFC tag to enhance/reduce lighting, disable sounds, and enable Wi-Fi, among other actions. 
Android Beam.

 

This technology has made exchanging data between two android devices pretty straightforward! 
Easy Device Pairing.

 

This technique automates many processes. For example, you can pair your NFC-enabled sous vide with your phone to remotely monitor the cooking process.
What are The Differences between NFC and RFID? Are They Even Different?
NFC uses the same concept as RFID technology. It is a branch of the High-Frequency RFID and operates at approximately 13.56 MHz
However, there are some slight differences, as outlined below:
The primary RFID uses are asset tracking, inventory management, access control, attendee tracking, and tool tracking.
On the contrary, NFC technology centers on safe data transfer. This technique is applied in contactless payment, data sharing, and smart posters. 
Infrastructural Differences 
When using RFID, you must have an RFID tag and a reader. Conversely, an NFC device is capable of playing the role of both a reader and a tag. This unique feature enables P2P communication between two NFC-enable devices.
Application Complexity Variations 
RFID uses a simple concept where a reader pulls out information from a tag. The reader must detect radio waves from the tags to capture the data.
NFC is a more complex technology that allows read/write operations. This feature transforms your phone into a digital while allowing flawless peer to peer communication.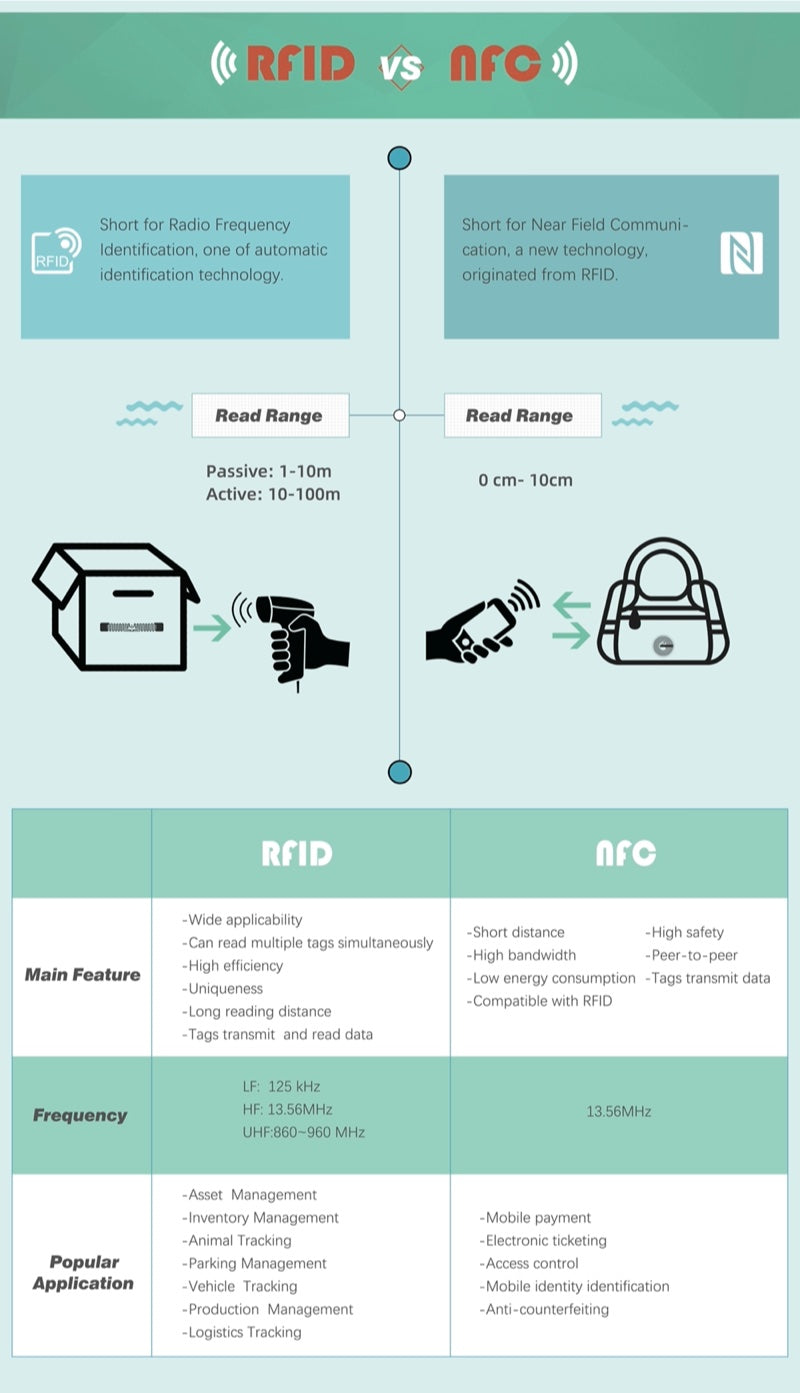 RFID vs. NFC: Which Is Better?
When choosing between RFID and NFC, your final choice will be dependent on your needs. The two technologies are tailor-made to meet different needs.
For example;
RFID is the ideal choice if you want to track your assets or manage your inventory. The RFID tags will send signals to the reader, enabling you to get information about your target asset in minutes. 
NFC is the superior technology if you need a complex system that enables peer to peer sharing, card reading, and smart posters reading. However, this technology is short-range, and the devices must be in proximity for it to work efficiently. 
You will also require to purchase all the RFID components independently as opposed to NFC that comes integrated into modern devices.
The Bottom Line 
RFID and NFC comparison can be tricky, mainly due to the striking similarities between them.
If you've found yourself in such a dilemma when deciding the technology to use for your business, then this article is for you. It highlights all the features of RFID and NFC technologies.
Additionally, you'll get tips on using each of the technologies to simplify your daily business operations. 
Related Product: