We always have a lot of cards in our wallets, they could be credit cards, bank cards, ID cards, membership cards, but when it comes to RFID cards, our minds are full of questions.
As we all know, with the rise and development of the Internet of things, RFID technology has come into our lives, your membership card, ID card may be a kind of RFID smart card. In this article, XINYETONG will help you fully understand RFID cards through 5 FAQs.
What is RFID Smart Card?
An RFID Smart Card is a contactless card that uses RFID technology to send and receive data. Unlike, contact cards, they last longer because they don't need to be swiped, thus, preventing wear and tear.
On the other hand, contactless smart cards range from simple memory cards with low security and non-volatile memory to high security crypto-processor cards and Native operating system cards.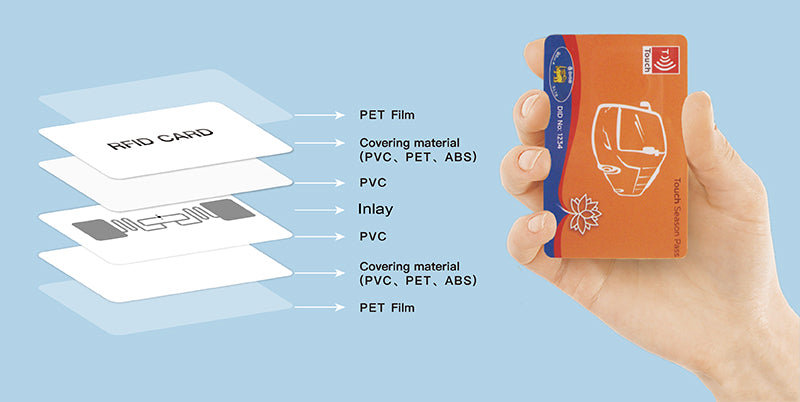 RFID smart cards have been adopted all over the world. Their increasing popularity is due to how convenient and fast they are, which makes them perfect for the education, identification, retail and transportation sectors.
One great thing about RFID smart cards is that their level of security can be adjusted to the application that uses them. Also, the information can only be written into the smart card memory by authorized personnel.
Among other things, RFID cards are famous for their flexibility. They can easily be updated in case an employee changes departments and their data can be revised without issuing new cards. Also, since their system uses radio waves, an RFID smart card doesn't have to be in contact with the reader.
RFID cards enable convenient handling, which is one of the benefits that they have to offer. They're also insensitive to moisture or any external factors, like dirt or mechanical influences, which can reduce maintenance costs, since companies won't have to constantly print cards for their employees. Another great thing is the fact that they don't need their own energy source, diminishing the need to buy new batteries.
What is RFID Smart Card used for?
RFID cards have multiple applications, to the point of becoming part of everyday routines. Among other uses, their technology is the best for time recording, access control and ticketing. One of their advantages is the fact that they can store data safely and operate with multiple applications. RFID cards are not limited to stores and corporate offices, since their technology is also used in health cards and bank cards. Their uses include: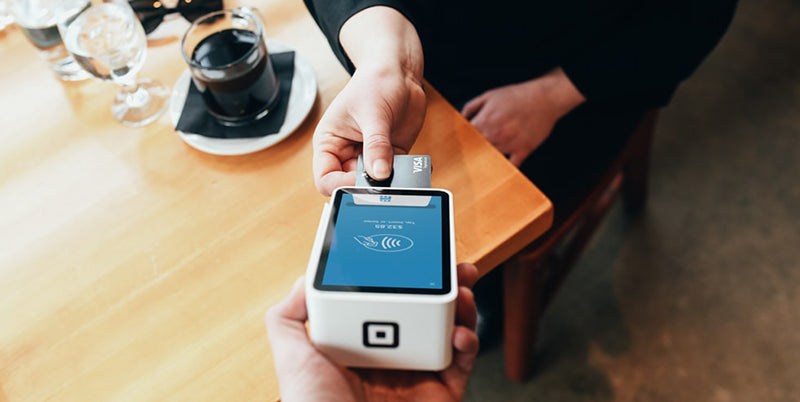 Security: RFID smart cards are mostly used to open doors and, in case of emergencies, the security team can determine if there are still people in the building.
Data Tracking: The computerized system matches the information with its database, logging information into another one, noting date, type and activity. A smart-card-enabled copy machine can deduct copying costs from the cardholder's department account.
Identification: The technology in an RFID card is used in applications that require protection of personal information. An employer can record an unique employee ID code and other data known only to the company.
Payments: Credit and Debit cards have embedded RFID chips to provide a safe payment system.
Among the most common applications for an RFID smart card we can find:
Access Control: The RFID cards are issued with access rights in companies where data has to be controlled and objects need to be identified.
Gift Cards: They're activated by the POS, allowing cashless payments in a similar way to credit or debit cards.
Event Accreditation: Some of these cards can be broken in two parts: One half works as either a ticket or an ID-card, while the other is printed with special information.
Student ID: They can be used as tickets for public transport, cashless payments in canteen and as a library card. Some student ID cards can be thermo-rewritten and personalized with their photo, name, matriculation number and even fingerprints.
Voucher Cards: These smart cards can be integrated to a loyalty system. A voucher can be personalized and can be redeemed at the company's store or website. They can be found at boutiques, cinemas and restaurants.
Membership Cards: They're often used by clubs, organizations and museums, including the members' personal data.
Customer Cards: They store customer-specific data, as well as information about a store's loyalty program. They're often used to provide discounts and additional services.
Authority ID Cards: They're used for time registration and access control. Authority ID cards can be additionally coded after printing the service ID, as well as personalized with photos to have a better control of the employees.
How does RFID smart card work?
The data inside an RFID Smart Card is encoded in a chip. Once it's close to the reader's antenna, the chip transmits the information, identifying the user to a computerized security system. A secure microprocessor is embedded on the chip, which has an internal memory. The plastic body of the card has an antenna embedded on it.
The communication between the reader and the card is facilitated by RFID induction technology that also serves as its energy source. On the other hand, the reading range of a smart card is fewer than 4 inches, which means that both will not be able to communicate if they're not held against each other. The embedded antenna allows the card to use radio frequencies to transfer information to the reader.
The chip in the smart card is powered by the electromagnetic field of the reader. In turn, this initiates the communication between both devices. One of the advantages of RFID smart cards is the security they provide, since readers can only read the card to which they're associated. They can block any access from mismatching encryption keys.
A smart card system is often comprised by a card and a reader. Their electrical specifications of a smart card are based on ISO 7816 specifications, which include dimensions and locations of its contact points.
One interesting thing about them is that their quality requirements vary depending on their frequency. For example, low frequency cards are regulated by ISO11784/5 and ISO14223, whereas high frequency cards' specifications follow ISO15693, ISO14443 and ISO18000-3. On the other hand, UHF cards must adhere to ISO1800-6, EPC Gen2 for it to be considered a quality smart card.
As of now, the most common RFID technology is MIFARE. In the fields of industrial time tracking and access control, transponder-cards produced by HID, Legic and I-Code are widely popular. A single RFID card can integrate different applications through segmentation, which involves writing of different areas on the chip.
What's the difference between LF card, HF card and UHF card?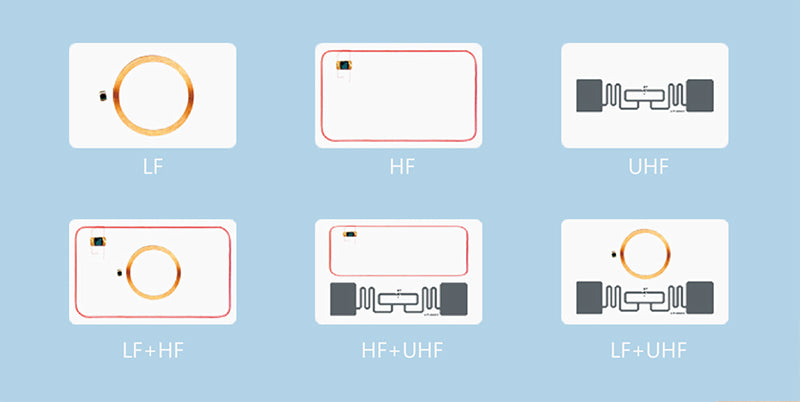 Contactless smart cards have three frequency ranges:
Low Frequency Cards (125 KHz – 134 KHz): They're commonly used for identification and access control. These cards have a low read range and communication speeds, whereas the chips offer low-cost and low-security solutions, playing the part of an identification key. One advantage of a low frequency smart card is that the shape of their waves makes them less likely to be affected by other radio signals and environmental factors.
High Frequency Cards (13.56MHz): These are the most diverse category of contactless smart cards, mostly used for college ID cards, access control, identification, retail payments, loyalty cards, transport and ticketing. They range from a simple fixed memory to high security Java and PKI processor cards. High Frequency cards have a medium read range and high data communication speeds, which makes them perfect for applications that require secure communication and large data transfer between card and reader.
Ultra High Frequency Cards (850 MHz – 960MHz): An UHF card provide fast data transfer and read ranges up to 10m, commonly used for location and attendance tracking applications. However, unlike low frequency cards, they can be affected by materials and the environment, although they're the preferred option for applications that require a long read range and simultaneous reading.
Some smart cards can have more than one frequency range. This is because modern applications sometimes need to operate with multiple chips of different frequencies. Dual Frequency Smart Cards also referred to as Hybrids, have laminated chips and antennas that prevent the RF signals from interfering with each other. Common combinations are:
Low + High Frequency: These are the most common dual-frequency cards and have a high-frequency antenna laminated around the card's exterior with a thick coil low-frequency antenna within. Systems like HID prox are replaced by higher security HF implementations that still need the original LFR chip.
High + Ultra High Frequency: They're starting to become popular in loyalty and payment schemes that want to track attendance and a customer's location. High and Ultra High Frequency cards generally have an UHF chip either above or to the side of the HF chip to avoid interferences.
Low + Ultra High Frequency: These cards are used where simple access control and personnel tracking is required. In the same way as HF + UHF cards, the low and ultra high frequencies can be combined by letting the LF antenna run above or beside the UHF antenna.
How much does RFID Smart Card cost?
Smart RFID cards can cost as little as 15 cents or as much as $50 depending on the type of card, the application, and the volume of the order.