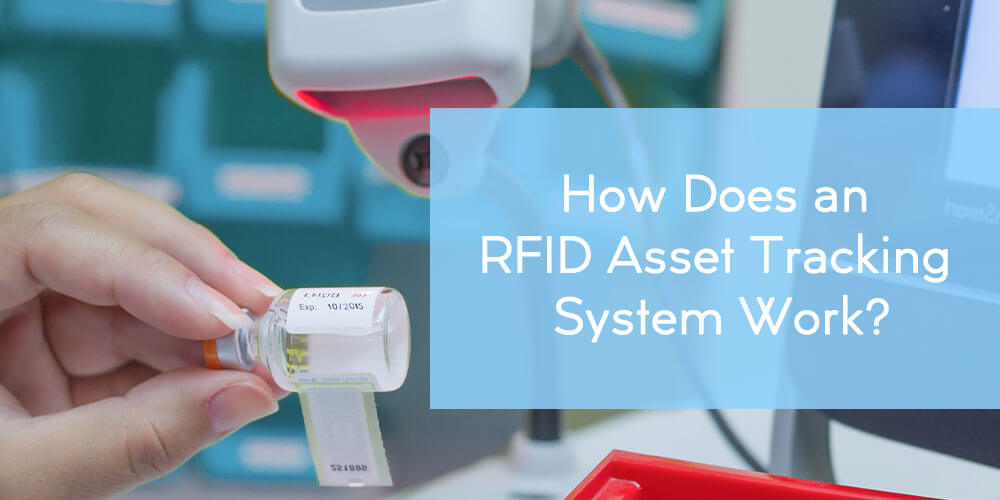 If you've ever participated in a manual asset management task, then you will opine that the exercise is overwhelming.
A research study by Telsyte shows that businesses in Australia lose $4.3 billion annually due to poor asset tracking. While the statistics are gloomy, there is a ray of hope for your business!
All that you need to manage your assets is a comprehensive RFID asset tracking system. This technology will enable you to account for all your assets in real-time. 
If you are wondering what an RFID tracking system is, then this article is for you. Read on for well-researched details about the technology.
What is Asset Tracking?
As your business expands, you'll acquire more assets. While growth is necessary, it comes with more management responsibilities.
And this is where RFID asset tracking comes in:
RFID asset tracking is a technology that helps you to monitor and account for your physical assets. To use it effectively, you must attach an RFID tag to all your physical assets. They will then send signals that will help you to know their location, maintenance schedule, and status. 
What is the Importance of Asset Tracking?
The primary goal of any business is to get maximum returns on every investment. To achieve this, you need to optimize the functionality of all your assets.
Asset tracking comes in handy to simplify asset management logistics. Its computerized systems ensure that you monitor both mobile and immobile assets remotely. 
Other benefits of an efficient asset tracking system include:
It Reduces Administrative Costs.

 

An asset tracking system eliminates the need for manual processes. This leaves more time and resources for other revenue-generating activities
It Leads to Improved Customer Service.

 

A functional system will promote quick service delivery to your clients. All defects on assets will be detected and rectified before they hinder service delivery 
It Reduces Losses.

 

When your business has an efficient asset tracking system, you'll be assured of accountability. It discourages misuse of your assets by employees, thus optimizing productivity
It Reduces Losses.

 

When your business has an efficient asset tracking system, you'll be assured of accountability. It discourages misuse of your assets by employees, thus optimizing productivity
It Increases Organization and Efficacy.

 

There is nothing that is as fulfilling as having flawless logistics in your business. When you have an effective asset tracking system, you'll know the exact location of your asset. This surety ensures that you can use them when you need them
The net effect of having asset tracking is improved profitability. Your ability to account for your asset will be the ultimate propeller to your success.
How to Use RFID to Automate Asset Tracking
Before we proceed, you must understand the concept of RFID. 
So, what is RFID?
Well, this is an acronym for Radio-Frequency Identification. It is a technology that uses electromagnetic fields/ radio waves to identify, capture, and transmit data. 
For RFID technology to work, there must be two important elements:
An RFID tag
An RFID reader/ Interrogator 
Every tag includes a circuit, complete with an antenna that transmits data to the RFID reader. It can be active or passive, depending on your needs. 
A passive tag uses electromagnetic waves produced by the interrogator and it must be close to the reader for it to function optimally. On the contrary, the active tag is powered by a battery and can send signals to readers located far away from its current location.
For asset tracking, we recommend that you use the active RFID tag unless you want to track close range inventory and deter theft within your organization's premises.
RFID Automated Asset Tracking: How it Works
Now that you understand the RFID concept let's delve into how it works to help you manage your physical assets. 
The RFID tracking system comprises of three key elements:
RFID Reader.

 

This device is fixed in strategic locations within your business premises. 
Asset Tracking Software.

 

The software enables you to track your assets using your desktop or a phone
RFID Tags.

 

The RFID tags are fixed anywhere on your valuable physical assets and then imported into an integrated tracking software
When you install this system, the RFID tags on your asset will send real-time signals that will be detected by RFID readers. This way, you'll be able to know their exact location and all other real-time details that you need.
Advantages of RFID over Traditional Bar Code System
Traditional bar code systems can be tedious. It requires that the employee points the barcode to the reader to get the data. 
It gets complicated when the barcode is covered or erased!
In that case, the barcode reader will not capture the information. As such, the employee will be forced to type the serial number manually, which is tiresome and prone to errors. 
On the contrary, RFID tags are highly efficient, and their application is straightforward. The RFID reader will decode the information in the tag without having a direct line-of-sight. This guarantees accuracy and convenience. 
Here are other benefits that you'll get when using RFID as opposed to the traditional barcode system:
Read Multiple Tags at Once.

 

The RFID technology does not require line-of-sight between the reader and the reader. As such, a single employee can track all your assets in a few minutes!
Easily Integrated with Software and GPS Technology.

 

With RFID, you can access all the information on your assets using your mobile phones. It can fetch the exact location of your asset in seconds
Data Storage.

 

RFID tracking technology allows you to store critical information about your assets. This allows accurate management schedules, thus boosting productivity in your organization
Sends Real-Time Alerts.

 

The security of your assets will be guaranteed when using the RFID tracking system. It sends real-time alerts in case the assets move out of the authorized areas.
Reduced Inventory Times.

 

Inventory management will be a breeze when using this technology! It takes a few hours as opposed to days when using other traditional tracking systems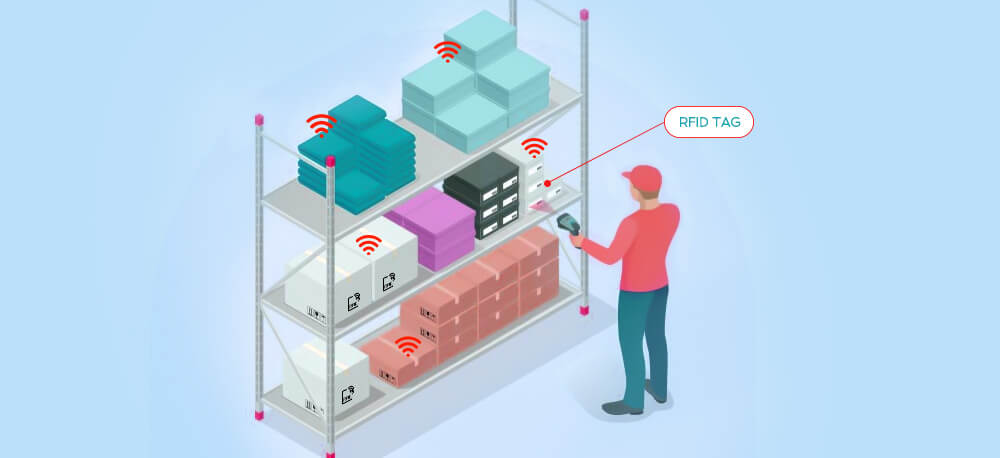 Selecting the right RFID tag for your business is tricky, especially when you fail to define your needs. Here are all the factors to consider when shopping for one:
1.Tag Type 
As earlier indicated, there are two types of RFID tags: Active and Passive. If you want a tag that can help you track your assets in far locations, then you should settle for the active one with a relatively broad read range.
2.Tag Frequency 
The tag frequency you choose will depend on the data rate, read range requirements, and material to be tagged. 
Read Range.

 

There is a variety of Low-Frequency (LF), High-Frequency (HF), and UHF RFID tags. LF and HF tags with a shorter read range are ideal for tracking local inventories, while the UHF tag is ideal for 5-10 feet range tracking
Materials Tagged.

 

If you're dealing with aqueous materials, you'll require a tag that does not touch them directly. In that case, you can use HF tags with 3 feet read range 
When tagging humans and animals, you should use either HF or LF tags. The FDA recommends that you use LF for both.
However, dealing with metallic objects presents a rather complex situation.
The efficacy of the tag will be compromised if it is attached directly to the metal. As such, you should get a tag that leaves an air gap between the object and the RFID tag. 
3.Ability to Customize 
If you want to integrate more features into your RFID system, then you should ensure that the tag supports it. 
For example, monitoring the temperature of your transportation box needs an active tag with a temperature sensor. 
4.RFID Standards Compliance 
Purchasing RFID tags that are compliant with your industry standards guarantees safety and efficacy. 
One of the widely used compliance standards is EPC Gen 2. As such, we recommend that you use Gen-2 compliant RFID tags.  
5.Environmental Factors 
The location of use for your RFID tags matter. You should ensure that your ideal tag can survive the prevailing environmental conditions of the target asset. 
For example, a corrosive environment may interfere with the functioning of the antennae. Also, excessive moisture affects the adhesive resulting in a tag fall. 
In cases of extreme environmental conditions, you must only use encapsulated tags that are specially designed to overcome adverse environmental conditions. 
6.Business Demands on Compliance
In some industries, customers demand that you supply tagged goods. If such a business opportunity demands exact specifications on the tags to be used, then you'll have to comply.
The Bottom Line
Are you stressed over the losses of your physical assets? Well, managing your physical assets should always be a priority if you want to optimize your business operations.
However, you cannot achieve much success if you use manual tracking systems.
As such, you should consider using an RFID asset tracking system. This technology will give you real-time data on all your assets, thus enhancing your organization's efficacy. If you're wondering how RFID tags work, then this article answers all your queries. We implore you to use the tips offered herein and revolutionize your business.