Automation, information, and intelligence have become the needs of the development of the times. Since the beginning of the 21st century, unlimited technology and computer technology have continued to develop in-depth, and the Internet of things industry is booming. The access control system based on RFID technology is a good embodiment of the practicability of the Internet of things.
RFID Access Control System Advantages
With the rapid development of RFID technology, RFID access control system is not uncommon in our daily life, which has multiple functions rather than traditional access control system.
RFID access control system has all the functions of the traditional common access control system as well as allowing multiple people passing quickly and recording the personal information of each person entering and leaving at the same time.
When a person with an RFID card passes through the gate, the information in the card is automatically collected by the system without manual intervention, which makes the management of access control more convenient.
RFID tags have a longer service life up to 10 years and can read and write more than 100,000 times repeatedly.
Classification of Access Control System
According to the way of entry and exit identification, the access control system can be divided into the following three categories:
Password Recognition: It identifies access rights by checking whether the input password is correct. Password identification has high security. But the password is easy to forget, and it is not convenient for that every time you enter the door, you need to enter the password.
Biological Identification: It is recognized by some human biometrics. Biometrics is safe and convenient, but its high cost makes it difficult to be promoted.
Card recognition: There are two kinds of card recognition. The first is magnetic cards, low safety performance, and easy to wear; the second is RFID cards, easy to use, and high security. RFID cards can be well managed by the database and have a very good promotion prospect because of their high-cost performance.
Common Applications Scenarios
RFID access control system has long gone beyond the traditional sense of the door and key management functions. All these are closely related the access control system including the safety requirements of the modern working environment, the administrative work of the department, the management of daily attendance and the consumption of the company's food and beverage. RFID access control system is widely used in apartment, residential area, factory patrol, company research and development technology department, medical, financial, and other applications.
Residence o & Apartments
RFID access control systems for residential and apartments can effectively prevent unauthorized personnel from entering into the inside and protect the safety of these sites maximally. If an accident occurs during a certain period, information such as all video data and recorded data, etc. may be consulted later to provide existing evidence.
Office Parks
Each employee has an RFID work card as a data carrier for attendance or meals to realize employee attendance swiping, data collection and recording, information inquiry, and attendance statistics. Also, companies can use cards held by employees to manage their access to information, systems, materials, and devices at work.
Conferences & Events
For large conferences or important events, the RFID access control system is a more secure and effective way. RFID can realize multi-target identification, moving target identification, and remote real-time monitoring and management. It can not only enable participants to efficiently enter the venue but also quickly identify those without relevant identification documents or those with illegal documents.
Leisure and Entertainment
For sports venues, concerts, or other places of leisure and entertainment, the RFID access control system can achieve ticket management to reduce the loss caused by ticket forgery. There are a variety of RFID tickets, such as RFID paper ticket cards, RFID PVC membership cards, RFID wristbands, etc. And they are durable and can be made into monthly or annual cards. When going in and out, the ticket can be read without taking out, to achieve open access control management, and to enhance the user experience.
Parking Lot
In the control of vehicle entrance and exit, the access control system can realize non-stop identification, saving time, and improving the traffic efficiency of intersections. More importantly, it can carry out real-time monitoring on the vehicle access of parking lot, accurately verify the identity of people, vehicles, and car owners, maintain regional public order and make parking lot management more humanized, intelligent and efficient. Also, it is part of a smart parking management system.
Hospital
Medical institutions bear the important task of seeing a doctor by the public. There is a huge flow of people in the hospital every day, including patients, family members, and medical staff, which brings great difficulty to hospital safety management. The RFID system can provide better and more secure access control management by control the person entering and leaving the important areas of the hospital through the hierarchical authority.
Common RFID chips for access control management are F08, TK4100, and UHF Alien H3. These RFID chips can encapsulate various RFID tags and be applied in different access control systems.
RFID Keyfob

 

for Community

 

Access Control
Application:

 

RFID Keyfob

 

is the most common RFID tags for community access control.
Common Type: ABS RFID keyfob, Epoxy RFID keyfob,PVC RFID keyfob, RFID leather keyfob, etc.
Commonly used chip: F08 or TK4100 chip
Features: Low cost, various styles, convenient, easy to use that they can be hung on your keychain or bags, etc.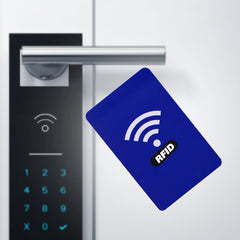 RFID Card

 

for Hotel Access Control
Application:

 

RFID Access Control Cards

 

are often used in offices, apartments, hotels, etc.
Common Type: RFID Blank Card, RFID printed Card, RFID wooden Card, etc.
Commonly used chip: F08, TK4100 chip, UHF Alien H3, etc.
Features: Customizable, various styles, convenient, Printable that can be printed any pattern you want, etc.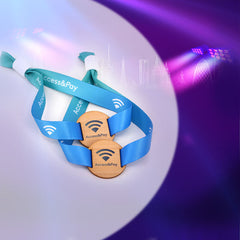 RFID Wristband

 

for Event Access Control
Application:

 

RFID wristbands

 

are often used in Natatorium, yoga room, gym, events, festivals, etc.
Common Type: RFID fabric wristband, paper wristband,silicone wristband, PVC wristband, etc.
Commonly used chip: F08, TK4100 chip, UHF Alien H3, Ntag213, 215, 216, etc.
Features: Various styles, fashion, convenient, multifunction (according to the chip you choose)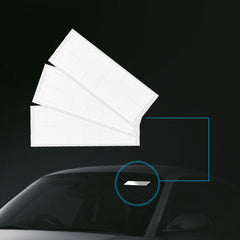 RFID Windshield Tag

 

for Parking Access Management
Application:

 

It is the most special RFID tags for access control, and mainly used for Parking access management.
Common Type:

 

Common RFID windshield tag and Anti-metal windshield label
Commonly used chip: UHF Alien H3 chip
Features: With a back glue that can be affixed to the windshield of the car, Remote and fast recognition, No need to stop, Convenient, etc.