Fingerprint Lock with Touchscreen Smart Room Door App Digital Lever Lock Keyless Entry Front Door knob with Keypad Suitable for Home&Hotel&Office&Indoor Door
Add Smart to Life ▶Keyless Entry Smart Lock with multiple unlocking methods:Bluetooth, APP, fingerprint, virtual button, mechanical key. In any scenario, you have the best unlocking method to choose. Paired with the WIFI Gateway to achieve ultra-long-distance control(Warm Tips:Accessories do not include gateways.)It's compatible with Alexa and Google at the same time.

High Security and Privacy Protection ▶Smart lever door lock is made of zinc alloy material, anti-corrosion, sleek and modern, it has a simple, stylish bold look. It is ideal for home office, apartment, garage entrance door, storage room, warehouse, basement, bedroom, etc.

Fast fingerprint recognition technology ▶This is high-tech intelligent biometric fingerprint door lock handle, using advanced semiconductor biometric fingerprints identification technology. This biometric fingerprint recognition technology can read fingerprints in 360 degrees within 0.3s, very nice touch and rounded ergonomically, it is easy to program different fingerprints for keyless access by the whole family.

App Control ▶The smart fingerprint door lock handle supports IOS and Android devices. with the free App, You can set and share temporary eKeys to friends, visitors or housekeepers. It will be record and transfer who comes and goes, at the same time automatic locking and passage mode settings, bringing security and convenience to your life. Can be remotely controlled with WIFI gateway 

Easy to Install ▶ Adjustable latch:2-3/8″(60mm) to 2-1/8″(70mm). The thickness of door:1-3/8″to 2-1/8″(35mm-54mm).Both the left and right doors are suitable. It is the best replacement of standard American door.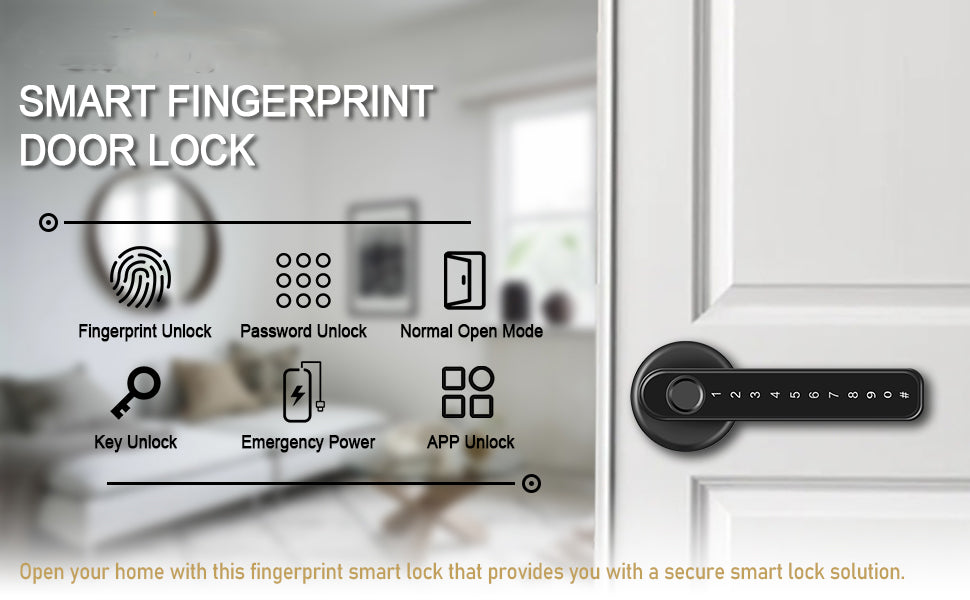 Specifications
Color:Black
Material: Plastic, Zinc
Lock Type: Keypad Lock, Biometric Lock
Unlocking methods:Bluetooth, APP, fingerprint, virtual button, mechanical key.
The thickness of door:1-3/8″to 2-1/8″(35mm-54mm)
Adjustable latch:2-3/8″(60mm) to 2-1/8″(70mm)
Package List:
1 * Door Lock
2 * Handle
1 * Lock Tongue
2 * Mechanical Key
1 * Mounting Kit
1 * Instruction Manual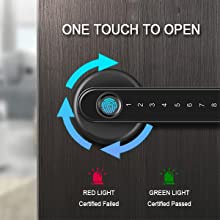 One touch to open
The living fingerprint touch key is hidden in the door handle, and the door can be opened in one go without waiting.
Green light means success, red light means failure.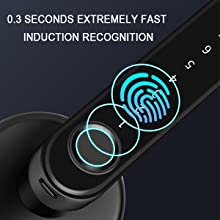 High-quality sensor
Using the latest biometric fingerprint sensor, the recognition rate is as high as 99%. Read your fingerprint and unlock your door in 0.3 seconds.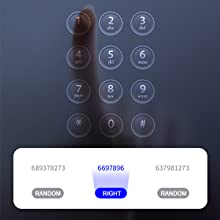 Anti-peeping keyboard
Add random numbers before and after the real password to protect your password from prying eyes.
Normally open mode
Normally open mode can be switched, without verification, can be opened directly, convenient to use in places where people frequently enter and exit, and can be turned off when this function is not needed.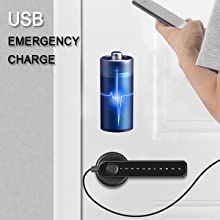 Emergency charging port
If the lock's battery runs out of power, you can use a mobile power source to power the lock.
Please remember that the charging port is for emergency use only and should be powered by 4 AAA batteries under normal circumstances.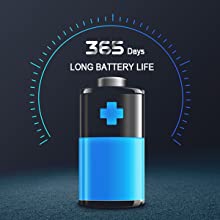 Long battery life
four 3A batteries can last for one year, no need to worry about the need for frequent battery replacement, low battery will be alerted.
Easy installation.
No wiring, no drilling, just a screwdriver to finish the installation on the original hole, can replace a variety of wooden door locks.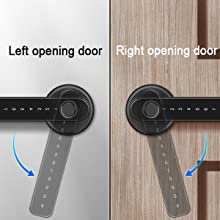 Suitable for left/right
Whether your door opens left or right, you can install GEKRONE Smart Door Lock. You can adjust the unlocking direction by yourself.
APP Control
Support IOS and Android device , with free APP, you can set and share the temporary eKeys to Visitors.Bringing security and convenience to your life