Gialer 50 PCS 125KHZ ID RFID Keyfob, Proximity ABS RFID Keychain, Smart ID Intelligent Card Token Tag for Door Access Control - Read Only
Product description
1. Material:ABS
2. Frequency: 125 KHz
3. chip: TK 4100 chip , Read only
4. Package included: 50pcs black RFID keyfobs
5. Working Mode: Read only modes - Can be used in 125KHz RFID card reader or access control system
6. Storage Capacity: 330 bit (264 free bit availability)
7. Reading distance is 0 - 10cm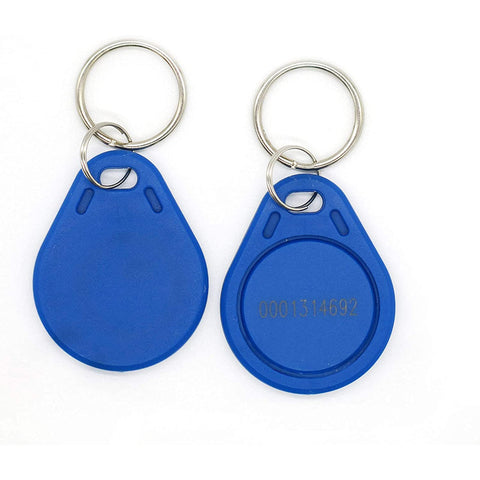 【FREQUENCY】- 125kHz; Sensing Distance: 2.5 to 10 cm (1 to 4 inch); Data Storage Life: 10 Years..

【READ ONLY】- Not rewritable and re-program them. Each key fob is already pre-programmed with a unique ID number. The 10-digit number is engraved on the tag casing.

【CHIP】- Chip:TK4100.Works as a regular 125KHz RFID.

【SIZE】-Dimension:40*30*4mm.High-Quality Copper Coil inside. Casing Material: ABS Plastic.IP67 Waterproof & Durable.

【PACKAGE】- Package includ 50 pcs ID keyfob. 50 pcs package into one opp bag. Each opp bags package into carton box.