CR80 30 Mil Inkjet Printable PVC ID Cards PVC - Waterproof & Double Sided Printing - Works with Epson & Canon Inkjet Printers Gialer 100 Pack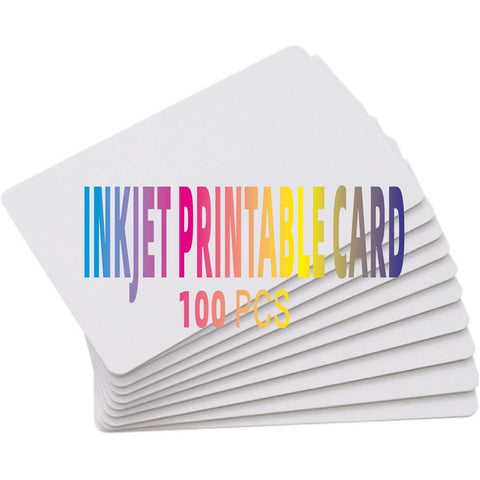 Description
Gialer inkjet PVC cards are designed to be the absolute best Inkjet PVC cards made. Gialer cards feature our proprietary coating which ensures your inkjet printer will produce excellent results, without smearing, bleeding, or running. Once dry, our cards are waterproof and resistant to most environmental changes. Our coating is designed to resist scratches, and our cards are professionally packaged to ensure you receive the highest quality cards available.
Please note that these cards can only be printed on the following printers:
Canon J Tray: MG5400 Series, MG6300 Series, MG7100 Series, iP7200 Series, MG7500 Series, MG7700 Series, MX920 Series
Canon K Tray: Pro-10, Pro-100 Canon M Tray: TS8000 Series, TS8100 Series, TS9000 Series, TS9100 Series
Canon MP Tray: TS700 Series, TS8200 Series, TS8300 Series, TS9500 Series
Templates are available for Word, Photoshop & Illustrator, and Apple Pages.
100 Pack Gialer Inkjet PVC Cards - The Absolute Best Available, Guaranteed
Gialer Inkjet PVC Cards use our proprietary ink receptive coating to ensure ink sets fast, and for good. Don't waste time and money on inferior technology.
Standard Credit Card Size (CR80) and Thickness (3.375" x 2.125", 30 mil thick)
BOTH sides can be printed on. Using our downloadable templates allows you to print edge to edge (full bleed).
NOT FOR USE IN PVC CARD PRINTERS: Only for use with Inkjet Printers - These cards are not meant for use in normal thermal ID card printers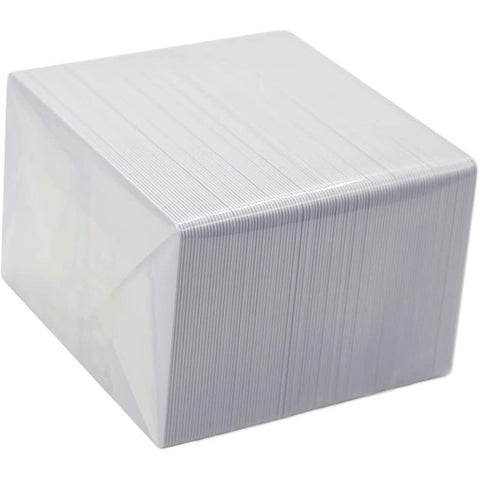 100 pack CR80 30 Mil Inkjet printable PVC Cards

Inkjet printable PVC Cards use our proprietary ink receptive coating to ensure ink sets fast, and for good. Don't waste time and money on inferior technology.

Standard Credit Card Size (CR80), and same Thickness (3.375" x 2.125", 30 mil thick)

BOTH sides can be printed on. print edge to edge (full bleed).

NOT FOR USE IN PVC CARD PRINTERS: Only for use with Inkjet Printers - These cards are not meant for use in normal thermal ID card printers